2-A State Champs 1994,1995,1996, and 2000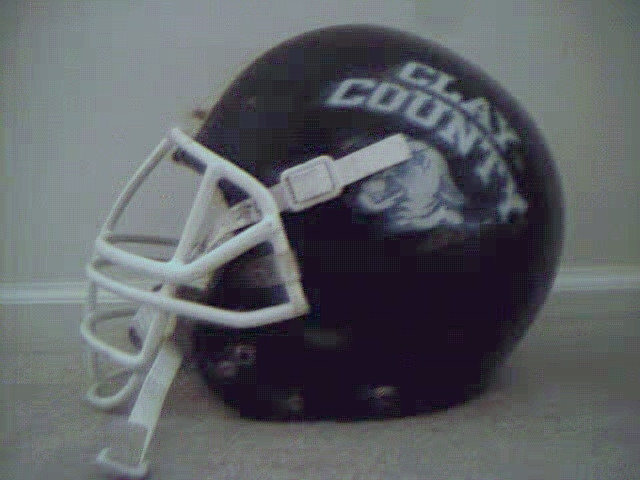 Season Outlook
Clay County claimed its fourth Class 2A state football championship last year, scoring in every quarter to defeat Pisgah handily 27-7 in the finals. Unlike the earlier titles, particularly 1995 and 1996, the 2000 championship was an unexpected, and most pleasant, surprise.

2001 is not likely to be another season of pleasant surprises. The team has 33 players but 13 of those are eighth- and ninth-graders.

"I think we're going to be fair if we don't have any injuries," offered Clay County head coach Danny Horn following a recent practice. "But if we start getting injuries it could get ugly."

Lack of depth is the first problem. Lack of experience is the second.

Gone are nine seniors who were starters, most on both offense amd defense. Gone, too, are four other probable starters who either lost interest in football or were academic casualities.

Among those who must be replaced are Chad Gibbons who - as quarterback, safety and place kicker - earned MVP honors in the championship game. Also gone are running back Willie McLemore, a 1,000-plus yard rusher, and linebacker Rickey Smith, the team's leading tackler.

"Defensively, I think we've got a chance to be decent. We just don't have any depth at any position," noted Horn. "Offensively, we've got a lot of holes to fill."

At linebacker, junior J.R. Hess, second leading tackler behind Smith last year, returns. Michael Bass, also a junior, will move from defensive end where he started in 2000 to the other linebacker slot. Horn feels this pair will be one of the team's strengths.

The defensive line will be built around returning nose guard Adam Harris. Harris was the third-leading tackler in 2000. He had six tackles, five unassisted and two for losses, against Pisgah. Senior Jefferson Sims, "not that big but real quick," according to Horn, will be one tackle. Either Jeremy East or Tyler Smith, both sophomores, will play the other tackle. Junior Bryan Ellis returns at one defensive end. Freshman Chris Burkhalter will be the other end.

In the secondary, senior Chris Hurst returns with experience at cornerback. Junior Dewayne Duncan should start at the other corner, sophomore Kevin Pitts at strong safety and senior Bryan Mumper at free safety.

Behind those?

"We're struggling to find a third linebacker, third defensive end and fourth defensive lineman," said Horn.

The offense may resemble play of fifty years back. Make no mistakes. Maintain field position. Rely on the defense.

"We don't have a talent like Chad (Gibbons) who can turn a busted play into a touchdown," Horn noted.

At quarterback Hurst and Pitts are the contenders but neither has significant experience. They may alternate at quarterback. Horn's expectation will be that both "play smart" and avoid mistakes. Duncan and sophomore Corey McLemore will be the running backs. Lack of depth there may dictate that the 'I' will be the primary formation in 2001 to keep a fresh back on the field. Hess, who rotated at fullback last year, is the only back with starting experience.

In 2000 four of the five Panthers on the interior offensive line were seniors. This season Harris, at guard, will be the only senior and the only returning starter. Bass, a tight end on offense last year, will move to the other guard. At center will be the freshman Burkhalter. Horn describes Burkhalter as one of his most improved players.

The tackles will be sophomores Smith (250) and East (240). Bryan Ellis returns at tight end. Mumper, who played for the first time last year, has good hands and will start at split end.

Of the line Horn said, "The size is there but they lack strength and experience. The worst place to have inexperience is the offensive line."

Depth is a problem here, too. Sophomore Brett Thompson is the backup at center, at guard and at tackle.

The Panthers may also put the ball in the air more frequently than previous Clay County teams this time to take some pressure off the linemen.

"As the year goes on we're going to get better," said Horn.

But the opening three games could be killers: Hazlewood, No. 1 in 1A in the preseason poll. Highly regarded Highland Home and Region 4 opponent Horseshoe Bend with what Horn expects to be its best-ever team. "There's a good chance we may be 0-3."

Still, the Clay County traditional work ethic continues.

"The kids have worked hard, done what we've asked them to do, practiced hard," concluded Horn. "I don't know how many games we'll win but I do know how many we're going to play hard."

Coach: Danny Horn (12th season)
2000 record: 14-1
Class, Region: 2A Region 4
Offensive scheme: I and wishbone
Defensive scheme: 5-2
Starters lost: 14
Starters returning: 8
The skinny: Defense will be the strength of the 2001 Panthers. Linebacker J.R. Hess and nose guard Adam Harris, second- and third-leading tacklers last year, return to anchor the front seven. In the offensive backfield only Hess, who rotated at fullback, had significant playing time in 2000. The interior offensive line will also be green with experience only at one guard, where Harris returns.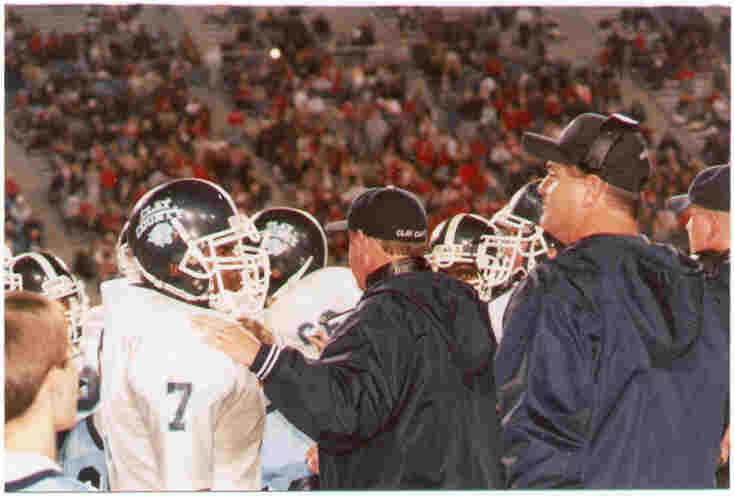 Week 1 Outlook
The Panthers have an open week in week #1 due to Bibb Graves not fielding a team. Clay County tried to find a replacement but was unsucessful as many teams fear the Panthers reputation. This open week gives Clay County a week extra to prepare to take on the defending 1A State Champ and most historied program in Alabama High School football history, Hazlewood.
Week 2 Outlook-Hazlewood
Hazlewood opened the season with about as big a game as it could have in its part of the world. The Golden Bears locked horns with arch rival and area opponent Courtland.

Now this week, Clay County will open its season about as big as you can statewide. The Panthers will play host those same Golden Bears Friday night.

If the sheer names of the two teams and their tradition doesn't speak volumes of the matchup, just remember these are two teams that won state championships in their respective divisions last season. Hazlewood won its 11th over Reeltown and Clay County its fourth over Pisgah.

"I thought when we beat them last year it gave us confidence," Clay County head coach Danny Horn said. "I think it told our kids if they could beat them, they could play with anybody, anytime."

The two teams do have a history of competition. Over the last 10 years Clay County leads the matchup 3-1, but last year - a 26-14 Clay County victory - was the first time they met in the regular season.

In 1995, Clay County won in Birmingham to claim a state championship. In 1992, Hazlewood won in Ashland one game before taking home a title of its own.

When the two teams met in Week 2 last season, it was done at Town Creek with the Golden Bears in the same position they are this year - looking for a win. The loss bumped the Bears from their No. 1 ranking and sent them to No. 4.

They continued taking hits, losing three of their first four games.

Both teams will look much different this season. Hazlewood's top three rushers are gone - Patrick Billings, Chris Goode and Tavarius Garner. They combined for more than 1,800 yards last season. Billings also was leader for the Golden Bears defensively.

Back to lead Hazlewood's defense are senior linebackers Anthony Maxwell and Ron King.

Clay County has lost key players, too. Elusive quarterback Chad Gibbons and powerful Willie McLemore both graduated. They combined for nearly 1,900 yards and 34 touchdown on the ground. Combined, the Panthers and Golden Bears graduated 11 seniors

Many knew Hazlewood could be down (by Hazlewood standards), but the first week's loss has raised questions. Though the Golden Bears lost, as they did last year, most thought the Golden Bears would at least score.

But Horn is not fooled by the scoreboard. He and defensive coordinator Jerry Weems saw the game in person.

"I think the score was a little deceiving," Horn said. "There was a lot of speed on that field. Hazlewood has got a lot of size and speed. They drove down there twice and probably should have scored, but you don't ever know. The first time they played last year, Courtland won and then Hazlewood beat them the second time 33-0."

One might think getting an opportunity to scout a team without the other having the same opportunity would be an advantage. Horn disagrees.

"I think personnel-wise, yeah, they won't know who we'll have," he said. "But for just a surprise about what we're doing, we've been doing the same thing forever. Ain't nothing changed much about that around here."

Week 2-Result
The Battle of Champions turned out to be an old-fashioned football game - a game of defense, punting and field position.

It was the kind of game that defending 2A state champion Clay County had to have to have a chance against defending 1A champ Hazlewood.

The Panthers' defense made the opportunity then the offense, virtually interchangeable with the defense, made the most of it, coming from behind to edge Hazlewood 8-7.

Afterward, both teams huddled together on the field.

"If you play hard you've got nothing to be ashamed of," Clay County coach Danny Horn told both teams. "I don't think there's a boy on this field who's got anything to be ashamed of."

After a scoreless first half - in which Hazlewood punted four times and did not record a first down - the Golden Bears' Clearance Jones returned the second half kickoff to the Hazlewood 31. On the first snap, senior quarterback Jason Fitch pumped once, then lofted the ball perfectly to Jones streaking down the visitors' sideline and Jones reached the end zone untouched. Eric Sanders booted the extra point.

Even with outstanding field position the entire first half, Clay County had been unable to score. Now the Panthers were behind and everyone in the newly constructed home-side stands understood the game might be slipping away.

If the Clay County players had any negative thoughts, they didn't show.

Freshman Tommy Hunter fielded the short Hazlewood kickoff and scampered 21 yards to the Clay County 44. Nine plays - all on the ground - and no mistakes later, quarterback Chris Hurst scored on a 1-yard sneak.

It was decision time and Horn decided to go for the win. Junior fullback J.R. Hess, one of the few returning Panthers with experience, started up the middle, was hit at the 2 but kept his powerful legs churning and forced his way into the end zone for the deciding 2-point conversion.

"I was going to give it to J.R. because he's a gamer," Horn explained. "I said, 'J.R. it's yours. Do whatever you can. You've got to get in."'

"I just followed my techniques and did what coach told me," Hess said modestly. Then he acknowledged he could sense the defenders retreating as he advanced.

"I felt it. It was wonderful."

Balance in its backfield aided the Clay County scoring drive. Sophomore Corey McLemore contributed 25 yards to the push, including the 17-yard run that set up Hurst's score. Hess had four carries on the drive for 20 yards and Dewayne Duncan another 10 yards on two tries.

"That shows the kind of character we've got," noted Horn. "There's no quit in them. Some teams would have gotten down in the first half."

Hurst, Hess and Company scored with almost eight minutes remaining in the third quarter. Hazlewood had three more possessions, but each started deep in Golden Bear county - at the 22, 18 and 20. Twice the Bears were forced to punt.

Midway through the fourth quarter, Hazlewood began what would be its final possession. Fitch scrambled for 16 yards and a first down, then earned another first down near midfield on three more keepers sandwiched around a 3-yard gain by Katarius Johnson.

The home crowd grew uneasy again but Hess, a linebacker on defense went back to work. On successive plays, he sacked Fitch for a 6-yard loss, intercepted a Fitch pass intended for Eric Sanders across the middle and then - back at fullback - blasted through left tackle for 11 yards and the first down that assured that Clay County would be able to run off the final two minutes on the clock. Hess ended with 97 yards rushing on 17 attempts to lead both teams.

The sack was the third of the night for Hess, resulting in 25 yards in losses. For the game, Hazlewood had 20 running plays. Eight resulted in minus yardage.

"I felt like we made some improvement," said Hazlewood coach Rickey Johnson after his team slipped to 0-2. "We had a little more offense late, had a little more spunk. We've got to get better."

The rest of Alabama's 1A football teams should remember that the Golden Bears were 0-2 at this point last year, too, before finishing the regular season 7-3 and sweeping through their five state playoff games.

Week 3 Outlook-Highland Home
In week 3 of the 2001 campaign top-ranked Clay County travels to tough Highland Home. Highland Home comes into the contest 2-0 after defeating 3A perenial power, Luverne 16-14 in week 1 and after knocking off the 6th ranked team in 1A, Brantley 19-0. Clay County and Highland Home met last year as two, 2-0 and unbeaten schools. Highland Home came into last years contest ranked 2nd in 2A and Clay County 3rd in 2A. Clay County won last year 44-13 and that game set the tone for both teams season. Highland Home fell out of the top 10 after that game,lost the next week as well, and struggled to a 7-4 season. They went into the play-offs as the 3rd seed from their region and lost in the first round to Geneva County 14-5. Clay County on the other hand, moved to #2 in the polls and finished to have a 14-1 season and a state title. This will be the third time in history the two teams have met with the other meeting won 35-0 by Clay County in the first round of the play-offs in 1995. Clay County leads the series 2-0 and this could be the best team they play until the Panthers play "that team across the creek."
Week 3 Result
Clay County lost a defensive struggle in Highland Home 7-6 Friday night. Micheal Bass had a good game blocking 2 punts and making seven solo tackles but that was about the teams only bright spot. "Our offense is struggling bad right now, we have to figure out a way to put some points on the board." Coach Horn stated at Sunday film. Clay County scored early in the second quarter and and missed the PAT. Highland Home scored on an 80 yard pass just before halftime and made the PAT which was the difference maker of the game. Clay County was inside the 5 yard line one other time and in Squadron territory twice more, but failed to put any points on the board resulting in the 7-6 loss.
Week 4 Outlook-Horseshoe Bend
Clay County travels to Horseshoe Bend this week to take on one of their biggest rivals. Horseshoe Bend is 2-1 after defeating Randolph County 27-13 and Winterboro 37-0 the past two weeks and is already in first place in the area at this point. "They have their best team ever this year. If we dont play perfect we won't win and we may not win even if we do, its gonna be a fight boys." said Coach Horn to his players when warning them of the Generals. "They always play us tough and we're their biggest rival, and with the exception of Lineville they are our biggest. We better be ready to play." Horn concluded.
Week 4 Result
Clay County lost a 14-13 heart-breaker in double OT. Horseshoe Bend got on the board first, Clay County followed with their first passing TD of the season as new QB Kevin Pitts hooked up with old QB Chris Hurst for a 65 yard pass. As always Michael Bass and JR Hess had tremendous games and held the high-powered Generals offense to only 7 points in 48 minutes. Horseshoe Bend QB Kevin Boyd hooked up with Jasper Buchannan for a 10 yard TD pass in overtime number two. Clay County answered as Kevin Pitts made a 5 yard run to make it 14-13. Clay County elected to go for two rather than the PAT and Kevinn Pitts fell 6 inches short of the goal line to give the Generals the win.
Week 5 Outlook-Winterboro
Clay County travels to Winterboro this week to play their second region game of the season. The Panthers have lost back-to-back games in the regular season for the first time since 1993. 1993 was also the last time Winterboro beat Clay County when they upset the Panthers 27-6. Winterboro is 1-3 on the year and is a game the Panthers should win, but cant take the Bulldogs too lightly either. There will be more changes in the offense this week as the Panthers are still struggling offensively. Come out and support Clay County they need all the support they can get.
Week 5 Result
Clay County handed Winterboro its fourth defeat of the season with a 29-8 rout Friday night.

Winterboro could not seem to generate any offense in the first half, as the Bulldogs managed just one first down in the half.

Clay County scored on its first two possessions, riding the legs of running back Tommy Hunter, who gained 71 of his 103 yards on the night in the first half.

Hunter carried five times in the Panthers' opening drive, setting up a 17-yard touchdown run by Clay County quarterback Kevin Pitts.

After a Winterboro fumble gave Clay County possession deep in Bulldog territory, the running duo of Hunter and J.R. Hess gave the Panthers another score, with Hess reaching the end zone on a one yard dive.

Winterboro continued to have problems holding on to the pigskin, when Bulldogs quarterback Trenez Jones fumbled into his own end zone in the second quarter. The fumble was recovered by Panther safety Bryan Mumper.

The second half came to a close with Clay County holding a commanding 21-0 lead over the Bulldogs.

Although Jones was unable to get his offense moving, he did put a spark in the Winterboro defense in the second half, recording two sacks.

Despite the impressive defensive effort of Winterboro in the second half, Clay County was able to reach the end zone again, this time on a four yard run by Dewayne Duncan.

The snap for the extra point attempt was fumbled, but Clay County kicker Matt Mumper picked up the fumble and completed a pass to Eric Thomas for a successful two-point conversion.

Trailing 29-0 in the fourth quarter, the Bulldogs put together a quick scoring drive as Jones completed two passes to D.J. Simmons, then called his own number for a short scoring run.

Jones hooked up with sophomore tight end Keric Merrit for the two-point conversion, but the Bulldogs still trailed by three touchdowns with 3:19 left in the game.

The Panthers held on to that lead, and evened their record to 2-2 on the season, while Winterboro fell to 1-4.

Clay County head coach Danny Horn said he has a young team, but he feels the Panthers are improving, and should finish the season strong, despite fielding only five seniors on his squad.
WEEK 6 Outlook-Beulah
This week is homecoming and an important region game. This is the 4th time in school history the Panthers have taken on Beulah the first was in 1996 win Clay County scored the most points in school history winning 79-12, the Panthers also hosted the Bobcats for homecoming in 1997 and was victorius 35-0 and traveled to Lee County last year to take on Beulah and prevailed 33-0. This is a game the Panthers should win but the Bobcats are much improved, if Clay County dosent watch it, the game could be much closer than Clay County would like.
Week 6 Result-Beulah
Clay County nipped the Beulah Bobcats for a 13-6 homecoming victory. The Panthers performance was certainly very lackluster and Coach Horn even refused to comment on Friday nights game. He told me "I'm absolutely at a loss for words." He said the Panthers seem to be getting worse and not better and thats not a good thing. he did go on to say that the Panthers did get the region win and thats the most important thing, though an ugly win, Horn concluded with this remark, "I'd rather play bad and win than play good and lose."
Week 7 Outlook-Randolph County
This is probably the biggest game of the season for the Panthers. A win and more than likely they're in the play-offs. A loss and more than likely they're sitting at home. Randolph County/Clay County rivalry has seen many great games and upsets. Last year Clay County was highly favored, undefeated and really even uncontested at this point the season last season. Plagued with injuries the Panthers were upset 18-13 and knocked the Panthers from an undefeated season and gave the Panthers their only blemish in a championship season. The Panthers not only are seeking a play-off spot, but they are also seeking revenge!
Week 7 Result
Clay County put two quick touchdowns on the board to defeat Randolph County and all but solitify a play-off spot. Kevin Pitts scored the first from 1 yard out and J.R Hess tacked on the 2nd, on the 2nd drive of the game with a 47 yard touchdown scamper. Randolph County put a touchdown on the board with 2 seconds remaining before halftime to bring the score at 14-6 at the half. the Tigers got as close as the 1 yard line in the 2nd half but the Panthers made a goal line stand. The Panthers ended the game at the 1 yard line with a chance to score again, but gladly just took the win and didnt risk fumbling the ball at the game's end. Coach Horn stated, "Big win, big win. We played well enough to win, offense did better, and the defense played well as usual." The Panthers can clinch a play-off spot with a win over Marbury this week.
2001 Panther Football Schedule:

OPEN

Hazlewood Golden Bears (Won 8-7)

at Highland Home Flying Squadron (Lost 7-6)

* at Horseshoe Bend Generals (Lost 14-13 2OT)

* at Winterboro Bulldogs (Won 29-8)

*Beulah Bobcats (Won 13-6)

*Randolph County Tigers (Won 14-6)

*Marbury Bulldogs

* at Ranburne Bulldogs

*Lineville Aggies

*Denotes Region Game