1994 Seniors

Brian Brasseal
Chris Jackson
Adam Walker
Craig Young
Stephen Young
This group of seniors compiled a 40-13 record from their Freshman to Senior years, winning one state title (1994), 4 area championships (1991,1992,1993,1994), Brian Brasseal and Adam Walker had All-State honors in their senior seasons. The 1994 Class also captured wins #1-#14 of the state record 55 game winning streak, they set the state record for most shut-outs in a season with 10 (later broken in 1996, by Clay County), they still own the record for fewest points allowed in a 15 game season, only allowing 22 points. They outscored their opponets 371-22, and averaged 24.7 points per game while their opponets averaged only 1.4 per contest.Their overall play-off record was 10-3 as they out scored their opponets 261-99, an average of 20.7 to 7.1 per play-off contest. They were a part of two semi-final teams (1992,1994) and they had a 75% win percentage.
***This is what Coach Danny Horn had to say about the 1994 season:

Words can't describe the unbelievable season we had. For the first time, we accomplished all of our team goals that we set for each year, including the ultimate goal of winning a STATE CHAMPIONSHIP. This team finished with a 14-1 record winning the last 14 games. This time we won the Area Championship, beat Lineville, and won a State Championship for the first time in school history.

This group of young men played together as a team more than any other group I've coached. There were not any superstars, just young men willing to pay the price it took to win. I commended the five seniors for their leadership and hard work. It took many hard and long hours, but now everything is worth it. I hope you seniors have learned many valuable lessons that will help you later in life. One thing that I know you have learned is how to win. Hopefully, in life you will have many more victories.

For the rest of the team that is coming back, these seniors have left some very high standards to follow. Winning a State Championship is not going to happen every year. In fact, it may never happen again. But the desire and determination should always be there. "Everyone wants to be good and win but there are only a few willing to pay the price it takes to win." Let's hope we have some young men that are willing to pay the price.

In conclusion, I want to say how proud and lucky I am have been associated with this team. The fine support from this community has been tremendous. The good Lord has blessed us. We live in a town and community that all can be proud of. Again, I want to thank everyone that had a part in this championship season. Hopefully, there will be many more to come. "Ain't it great to be an ASHLAND PANTHER!!"
1995 Seniors

Derrick Buchanan
Shannon Glenn
Jeremy Forbes
Chris Holley
Craig Camp
Sparky Mitchell
Jeremy Bennett
Will Fetner
Chad Williams
Jesse Wood
Kelvin Simmons
Kelvin Zackery
This group of 1995 senior football players compiled a remarkable 46-10 career record. They had the first perfect 15-0 record in Clay County High School history. They were a part of 2 state titles (1994,1995), 4 area titles (1992,1993,1994,1995),3 semi-finals (1992,1994,1995) and had a 4-1 record against Lineville. Derrick Buchanan, Sparky Mitchell, and Kelvin Zackery all had All-State honors in their senior seasons. They outscored their opponets 601-42 in 1995, averaged outscoring their opponets 40-2.8 per game in 1995, had 9 shut-outs, had a 82% win percentage. They were the first team in Clay County High School to be ranked #1 wire to wire (from season start till season end), they were a part of wins #1-#29 in the state record 55 consecutive game win streak, they also lead all classes in scoring with 601 points and finished 5th all-time in state history. They compiled a 14-2 play-off record and outscored opponets 356-92, which equals out to 22.2-5.7 per play-off contest and also were a part of 10 consecutive play-off wins from 1994-1995. Some high school sporswriters claim that the state title game between Clay County and Hazlewood, which Clay County won 7-6, was not only the greatest title game ever, but possibly the greatest Alabama High School Football game ever.
***Here is what Coach Danny Horn had to say about the 1995 team:


UNBELIEVABLE! That one word can pretty well sum up the 1995 football season. We won our 2nd consecutive state football championship. We finished the season 15-0 with a 29 game winning streak, which is the longest in the state at this time. We scored 601 points to our opponents 42. We led the state in all classes with points scored and points allowed. We extended our play-off winning streak to 10 games. All of this coming after all the pressure from the high expectations from winning the year before and beginning the year ranked as #1 in the polls.

Words can't express my feelings toward this team. I will always cherish the memories of this season. The class, character, and work ethic that was demonstrated by this team is one that will be remembered forever. One day the reality of this will set in. Then we will all know what great things we accomplished. Hopefully, for you seniors, the best is yet to come. If the future is anything like the past you will be Champions in life. Always remember "THE PRICE OF VICTORY IS HIGH......BUT SO ARE THE REWARDS!"

1996 Seniors

Steven Ellis
Alan Cotney
Vernon Marable
Stanford Simmons
Rajohn Myles
David Ross
Yundrea Griffin
Brock Simmons
Cody Glenn
Runsy Street
Marquis Ballard
Robert Cornett
Dawned as "The Super Star Class", the 1996 seniors were probably the most impressive group of all-time, not just in Clay County in the history of Alabama High School Football. From their Freshman season to their Senior season they compiled an amazing record of 51-6 with a win percentage of 90% (5 of those 6 losses came in their freshman season in 1993 when the Panthers went 7-5, their worst record of the 1990's). They set records and were a part of many records that we may never see be broken in our lifetime. They were a part of wins #1-#44 of that INCREDIBLE state record 55 game win streak, they had a state record 11 shut-outs their senior season, and 30 shut-outs in 3 years. They outscored opponents 615-42 in the 1996 campaign an average of 41.0-2.8 per contest. They were a part of 4 area titles (1993,1994,1995,1996), 3 state titles (1994,1995,1996), and won every Lineville-Ashland game they ever played in going 6-0 against the arch-rival Aggies, including a 42-0 thumping of the Aggies in the 1996 state title game. They did some incredible things in the play-offs as well, they had an all-time record of 16-1 in the post season, outscoring opponents 480-84, which averages out to the Panthers outscoring opponents 28.2-4.9 in the post season. This team had back to back, wire to wire #1 seasons (1995,1996), they won 44 consecutive games, All-State honors were given out to Stanford Simmons (1994,1995,1996), Cody Glenn (1995,1996), Vernon Marable (1996), and Rajohn Myles (1995,1996). Many great teams have come through Clay County, but the 1996 team stands apart from the rest and that is why they are heralded by many as the "The Greatest 2-A Team Ever".
***Here is what Head Coach Danny Horn had to say abut the 1996 season:

Words really can't describe the amazing accomplishments that this team has made. We came inot this year with a 29 game winning streak, two consecutive state championships, and a #1 ranking. I told this team at the first practice that they were facing one of the greatest challenges of any team that I had ever coached. People were expecting the same from this team because of past accomplishments. What I am really proud of is how this team met the challenge each week. I guess the saying "Refuse to Lose" would be the best way to describe this team.

To be part of one championship team is great. But these seniors were part of three consecutive state championships, a current 44 game win streak, a state record 11 shut-outs this season, and second all-time in scoring with 615 points. During the past three years we have outscored our opponents 1,624 to 106 while shutting out 30 opponents. These are truly unbelievable stats. However, more importantly is the way this team conducted itself with class and character on the field. You can't win 44 consecutive games without having discpline and these before mentioned characteristics. I wish all of these seniors the best that life has to offer. the memories you all have left behind here at CCHS will NEVER be forgotten.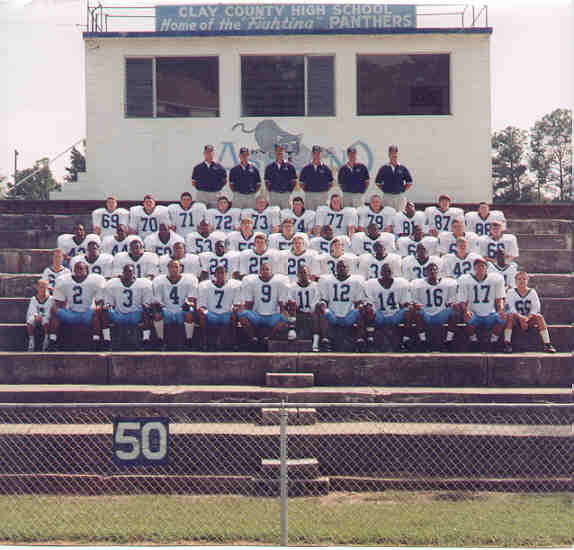 1997 Seniors

Ben Harris
Nick Jordan
Demetrius Newell
Frankie Heard
Michael Sims
Jermaine Ware
Roger Bell
Ken Gibbons
As all of the recent Panther classes were impressive, the 1997 class was no exception. Though they did not win the state title in their senior season, they did post an 11-1 record, after being ranked #1 the entire season, and perhaps will be remembered more than any other class in CCHS history because they were the class that broke the states most coveted record. The 55 game win streak, and the 1997 seniors were the only class that was around for all 55 games of the streak, in fact they lost the first game of their careers to Cleburne County 0-3 in the first game of the 1994 season and won 55 consecutive games before losing to Luverne 14-21 in the second round of the 1997 play-offs. In that span they were a part of 4 area titles (1994,1995,1996,1997), a part of 3 semi-finals (1994,1995,1996), and most impressivly 3 state titles (1994,1995,1996). They had a career record of 55-2 with an unbeliveable 96% win percentage. They were 16-1 in the postseason, including winning 16 in a row. Their senior season they posted 4 shut-outs and were a part of 34 shut-outs in their 4 seasons as Panthers. They outscored their opponents 351-88 in 1997, which is 31.9-8.0 per game and outscored opponents 484-77 in their 4 year postseason careers, which is 28.4-4.5 per play-off contest. One thing this class will always remember is they NEVER lost to Lineville they were a perfect 6-0 against their arch-rival from "across the creek", and were a part of what many consider "The Greatest Clay Bowl Ever" in 1997, when the Panthers beat the Aggies 10-7 with a half-back pass with under a minute left to go in the game. Nick Jordan and Jermaine Ware were handed all-state honors. Their career can be summed as "The Record Breakers"
***Here is what Head Coach Danny Horn had to say about the 1997 season:

A record breaking season. That is a good way to describe this season. We came into the season with a 44 game winning streak, needing 7 wins to break the state record of 50 wins that had stood for 43 years. We had lost 9 starters from last years team, but this team was determined not to let anything get in their way. The record braking game came on October 17, 1997, when the determined Panthers defeated Relltown 43-16. We then added 4 more wins, including a 10-7 win over Lineville, until Luverne defeated us in the second round of the play-offs. Defeating the 55 game win streak we scored a total of 1,961 points to our opponents 178. The mighty Panther defense also recorded 34 shut-outs.

I cannot say enough about the determination and effort that was displayed by this team. To the Seniors, I would like to espicially think you for a job well done. I hope some of the lessons you learned will last you for a lifetime. For the players coming back, I hope the work wthic and heart will never leave you. It is amazing what can be accomplished when everyone plays with thier heart. I am honored and blessed to ba a small part of something really big.

1998 Seniors

Adrian Scott
Chris Haynes
Jason "Gator" Huddleston
Wesley Brasseal
Brett Robbins
Josh Holley
Jeremy "Jap" Griffin
Marty Glenn
Tremayne Foster
Wesley Street
Freddie Wilson
Adam Rollins
Blake Horn
The 1998 seniors were yet another example of Panther football. They had an amazing run, all the way to the seni-finals. This group of seniors was the largest group ever to play football at CCHS with 13 seniors on this team. Three of those seniors even recieved all-state honors in their senior seasons; Blake Horn, Josh Holley, and Wesley Street. This team posted a 12-2 mark in 1998 and a 53-3 career record, with a 94% win percentage. They outscored their opponents 524-174 in 1998 and avg beating thier opponents 37.4-12.4 per game. They also were a part of 35 consecutive home wins and wins #15-#55 of the 55 game win streak. They were a part of 3 area titles(1995,1996,1997) and an area runner-up in 1998, they made 3 semi-final appearances (1995,1996,1998) and won 3 state titles (1994,1995,1996). They had a 14-2 career play-off mark, outscoring opponents 488-137, which balances out to 30.5-8.6 per playoff contest. They had a 5-2 record against Lineville. They were ranked #1 coming into the season and stayed there for the first 9 weeks before losing to Lineville, which ended 39 consecutive polls in which the Panthers were ranked at the top spot.



***Here is what Head Coach Danny Horn had to say about the 1998 season:

Looking back over this season, this football team probably over-achieved more than any other team I have ever coached. We went 12-2, making it to the semi-finals for the fifth time in seven years. I have said this many times about this team-they had the best attitude of any team I've coached. Since the ninth grade the seniors on this team have been part of a record of 53-3, two state titles, three area titles, and a state record 55 game winning streak. Many years from now, the members of this team can look back and realize that they were a part of something special. being successful does not happen by accident. It takes a lot of hard work and dedication. For the 13 seniors, I hope thses winning characteristics will carry over in your life. For the ones coming back, these same characteristics will determine whether or not you can carry on the rich tradition of Clay County Football. Thanks for letting me be a part of something really big.
1999 Seniors

Jeremy Patterson
Andrew Harris
Rusty Camp
Sidney Ware
Anthony Ellis
Eddie Ballard
Demetrius Taylor
Jessie Shirey
Ryan Green
The 1999 Panther Football team certainly was'nt the most impressive team of the 1990's, but still in the overall football program in Clay County High history they were among one of the more impressive teams. But Don't be fooled, these seniors accomplished a great deal in their 4 year career. They had an overall 4 year record of 46-6 with an 88% win percentage. They went 8-3 in the 1999 campigan and outscored their opponents 271-193, an average of 24.6-17.5 per game. They compiled an impressive 9-3 all-time play-off record, outscoring thier opponents 363-142, an average of 30.2-11.8 per play-off contest. They were a part of 2 area runner-ups (1998,1999), 2 area titles (1996,1997), 1 state title (1996), was a part of games #30-55 of the 55 game win streak, and was a part of the 35 game home win streak. They were ranked in the top 10 the entire season with the exception of one week. They posted a 3-3 record against their arch-rival, the Lineville Aggies.
***Here is what Head Coach Danny Horn had to say about the 1999 season:

At the beginning of the season, things were not looking so good. However, what happened next is a great tribute to our nine seniors, and the rest of the team. What once looked like the first losing season at CCHS in 15 years turned out to be an 8-3 record and another trip to the play-offs. Although we lost in the first round, the pride and character demonstrated by this team was awesome. this team played as hard as any team I have ever coached. I guess this team exemplifies the statement, "the harder you work, the harder it is to surrender." Thank you seniors for all of the hard work and leadership that you showed over the last four years. There will ALWAYS be something special about that blue jersey.
2000 Seniors

Jared Harris
Donny Pitts
Adam Robertson
Corey Vinson
Cedric Smith
Arthur Jones
Clay Lovelady
Rickey Smith
Willie McLemore
Rashad Ward
Chad Gibbons
The 2000 Panthers will always be known as the team to bring the Panthers back to glory. They won the State title for the 4th time in 7 years. They posted abn impressive 14-1 record en route to outscoring their opponents 490-105, and 32.6-7.0 per game. They have an impressive resume from not only their senior seasons, but their entire career. They had a 45-7 career record with an 86% win percentage, they had a play-off record of 9-3, outscoring opponents 323-140 in that span, which is 26.9-11.6 per play-off duel. They were a part of 2 area runner-ups (1998,1999), 2 area championships (1997,2000) and a state title (2000). They were ranked in the top 10 the entire year, spending most of the season at the #2 spot. They were part of wins #45-#55 of the 55 game win streak, and the 35 game home win streak. They posted a career record of 2-3 versus the hated Aggies from Lineville, posting a 28-7 victory in their final Clay Bowl. Willie McLemore, Jared Harris,and Chad Gibbons were handed all-state honors in 2000 as well.
***Here is what Head Coach Danny Horn had to say about the 2000 team:

Words cannot describe the thrills that this team gave the coaches, fans, cheerleaders, and everyone else associated with Clay County High School. I have said this many times before but it is worth saying again: I have had several teams with more talent, skill, and depth, but NEVER have I had a team that played with more heart and determination than this team. This is a good example that if you work hard enough and are determined to succeed that you can accomplish anything you can set out to do. Going 14-1 and being Clay Bowl, Regional, and State Champions is something that we will all cherish the rest of our lives. But for these seniors, I think the best is yet to come in life.

I hope the character and clas demonstrated bby these seniors will rub off on the underclassmen. I think it will and already has. Thanks for letting me be a part of something very special. "The PRice of Victory is High...But so are the Rewards."